Tech Support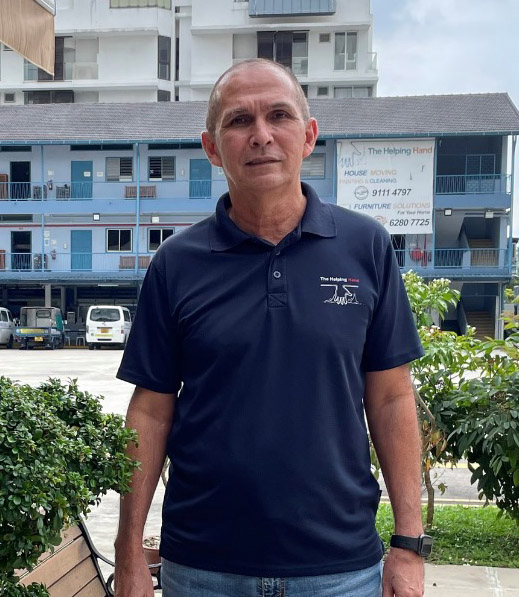 Executive Director of The Helping Hand (THH) Halfway House and an ex-offender himself, Richard Khalil tells us about his 20-year journey of reintegrating into society, which culminated to giving back to the community by helping other ex-offenders along the way. Read on to find out how he believes kindness can be a catalyst for successful rehabilitation and reintegration!
𝙒𝙝𝙖𝙩 𝙬𝙖𝙨 𝙮𝙤𝙪𝙧 𝙚𝙭𝙥𝙚𝙧𝙞𝙚𝙣𝙘𝙚 𝙖𝙛𝙩𝙚𝙧 𝙮𝙤𝙪 𝙬𝙚𝙧𝙚 𝙧𝙚𝙡𝙚𝙖𝙨𝙚𝙙 𝙛𝙧𝙤𝙢 𝙩𝙝𝙚 𝙥𝙧𝙞𝙨𝙤𝙣𝙨?
It was a combination of a few things – some family and friends lost their trust in me and many said that I wouldn't be able to change my ways. Despite these challenges, I persevered, as I did not want to give up on the journey to be a better man for my mother, who always believed in me and supported me.
𝙃𝙤𝙬 𝙙𝙞𝙙 𝙠𝙞𝙣𝙙𝙣𝙚𝙨𝙨 𝙝𝙚𝙡𝙥 𝙮𝙤𝙪 𝙞𝙣 𝙮𝙤𝙪𝙧 𝙩𝙧𝙖𝙣𝙨𝙛𝙤𝙧𝙢𝙖𝙩𝙞𝙤𝙣 𝙟𝙤𝙪𝙧𝙣𝙚𝙮?
I received an immense amount of love and kindness from my mother, as her belief in me did not waiver and she always made sure to support and guide me.
I would like to also mention and thank Brother Robert Yeo from THH, who showed me a lot of compassion together with the church community.
Olga, a church member, was also very kind to ex-offenders who attended service. Her words of kindness and acceptance spurred us to work harder and better our lives. She encouraged us to take up bible studies, which inspired me to attend bible college. With the knowledge I have gleaned, I am able to help and encourage other ex-offenders and show them the same kindness that was shown to me.
𝙃𝙤𝙬 𝙙𝙤 𝙮𝙤𝙪 𝙩𝙝𝙞𝙣𝙠 𝙖𝙘𝙩𝙨 𝙤𝙛 𝙠𝙞𝙣𝙙𝙣𝙚𝙨𝙨 𝙘𝙖𝙣 𝙝𝙚𝙡𝙥 𝙤𝙩𝙝𝙚𝙧 𝙞𝙣𝙢𝙖𝙩𝙚𝙨 𝙖𝙣𝙙 𝙚𝙭-𝙤𝙛𝙛𝙚𝙣𝙙𝙚𝙧𝙨?
To me, the smallest acts or even words of kindness, generosity and acceptance can mean a lot. Spare a thought for others, put yourself in another person's shoes before you criticise or judge them. I believe that if we were a kinder society, life would be much better for everyone.
Extracted from Yellow Ribbon Singapore Facebook.
Yellow Ribbon Singapore